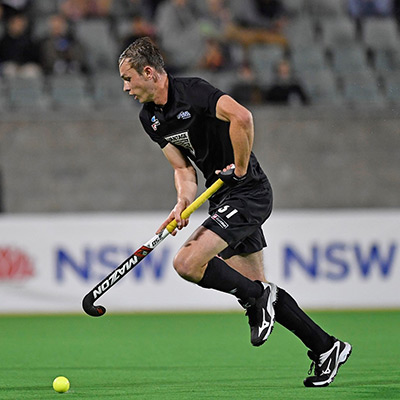 Hayden Phillips
Hayden Phillips has been a member of the Holcombe Premier Men's Hockey Team since leaving New Zealand in 2019. He grew up playing his hockey in NZ and has represented at both age group and senior level for his country. He made his debut for the senior side in 2016 and has since gained 89 caps. Amongst these caps he has represented NZ at; the 2016 Rio Olympics, the 2018 Gold Coast Commonwealth Games where he won a silver medal, and the 2018 Odisha Hockey World Cup. Hayden currently studies at Massey University in NZ where he is one paper away from completing his Bachelor of Business degree. Hayden wanted to join the Hockey Mentors Project as he saw it as an opportunity where he could pass on some of the knowledge he has gained through his journey and hopefully help others with theirs. He remembers just how important the help he received at each different stage of his hockey life was.
Tess Howard
Tess Howard is a current GB & England Senior International. Since making her debut in 2018 at the Champions Trophy, she has won 38 caps and scored 7 goals. A graduate of the GB EDP, she was part of junior European Bronze medal-winning teams at U18/U21 and was awarded England Hockey's Junior Performance Player of the Year in 2018. After achieving straight A*s at A Level and GCSE, Tess moved to Durham University to study Human Geography. Now in her 3rd Year at Durham, Tess studies remotely and plays in the Premier League for East Grinstead HC. As soon as she heard of Hockey Mentors, Tess wanted to join the team. Tess is passionate about helping hockey grow as an accessible sport for all and understands the importance of having a strong support network to help young talents achieve both sporting and academic dreams.
Alex Williams
Alex plays hockey for Southgate Hockey Club, in the South Premier Division. Alex is a forward and has been Southgate's top scorer for the last couple of seasons. Prior to playing at Southgate, Alex played a season in Australia, for Hawthorn Hockey Club in the Victoria Premier League, as well as playing National League with the University of Exeter. In future he hopes to play in Holland or Germany. Alex went to a state school which did not play hockey and achieved four A Levels (AABB) in Business Studies, Geography, Biology and PE. Alex worked through the England Hockey pathway making it to regional level. He is now a Head of Hockey and PE Teacher around playing hockey and has an undergraduate in BSc Exercise and Sport Sciences, a MSc Psychology of Sport and Exercise, and a Postgraduate Certificate in Education. Alex believes better people make for better hockey players, and wants to help nurture and develop young talent. He is keen to be a part of the mentoring team to help young players overcome many of the same barriers he faced, and to see more state school hockey players enjoying and succeeding in the sport.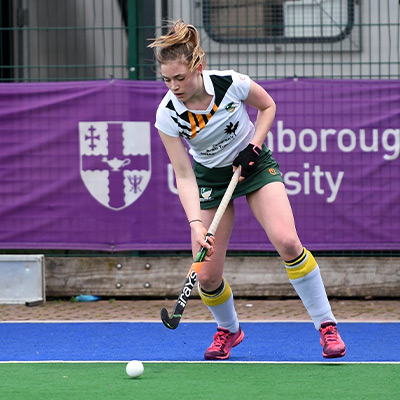 Sophie Jefferson
Sophie Jefferson is a student at Nottingham University, studying medicine and playing for the Ladies 1s hockey team. As a junior Sophie played for England U18s and captained multiple National Finals with ISCA girls. She combined this with being Head Girl at school and achieving top grades in her GCSEs and A-levels. Sophie also has a keen interest in athlete welfare and is the current Welfare Sec for Nottingham University Ladies Hockey. Sophie is keen to be part of the hockey mentors scheme to make hockey more accessible to all backgrounds so individuals can reach their full potential.
Navraj Degun
Navraj Degun currently plays for Barford Tigers HC in the English National League. He graduated from Aston University, and now works as a Business & Technology Consultant for TATA Consultancy Services. Nav returned to his home club Tigers in 2019 after spending 7 years playing Premier League hockey for Cannock HC & Beeston HC as well as playing for Bath Buccaneers HC in his university placement year. Navraj was also part of the England U18 & U21 programmes between 2009 and 2012. Being from an inner-city hockey club himself, Navraj recognises the severity of a 'missed' hockey talent pool due to lack of opportunity, infrastructure and facility. He grew up with incredibly talented friend circles who unfortunately could not meet their full potential due to many barriers both on and off the field. He is glad to be part of the hockey mentors programme to try and help upcoming talent fulfil their potential.
Darcy Bourne
Darcy Bourne is a current player in the GB EDP and England U21, having represented and captained England at U16s and U18s level. Darcy used to play hockey for Surbiton Ladies 1s, and now plays for Duke University in America on a sports scholarship. After achieving straight As and A*s at GCSE/A-level she now studies Liberal Arts at Duke. Darcy wanted to be part of the hockey mentors project as she has a huge desire to help make hockey a more diverse sport and offer mentorship to help aspiring athletes reach their goals.
Sam Hooper
Sam Hooper currently plays for Wimbledon HC in Men's Premier, having previously been promoted to the Premier League and won Bucs Gold whilst a student at the University of Exeter. Sam is a former GB & England U21 international, who also played for England at U18 level. He has an undergraduate degree in mathematics with finance, along with a masters in investment and finance. He believes hockey is a game that should be enjoyed and played by everyone, no matter their background. There is an incredible amount of potential for the sport to expand and for young hockey players to develop with the right guidance, so he is joining this project as a mentor to help the athletes grow as both people and hockey players, and to help make the game more accessible to the next generation.
Holly Munro
Holly Munro is a student at the University of Bath, studying Forensic Psychology with Counselling and is hoping to do a doctorate in Clinical Psychology. She did her undergraduate degree in Psychology at the University of Birmingham and has represented, and captained, England U16, U18 and U21 teams and played GB U21 and U23. Holly was also part of the GB senior squad in 2018. Holly is really excited to be involved in the Hockey Mentor Project, to foster young players love for hockey while also helping to support the development of their holistic wellbeing and learn about their journeys so far.
James Mazarelo
Now in his 3rd year of GB EDP, James Mazarelo has represented England at U16, U18 and U21 level. He has won 2 Sultan of Johor Cup Gold medals with the GB U21s and a silver medal with England at the U21 Europeans. James is currently in his second year at Loughborough University playing in the Division 1 North for Loughborough Students. At school, he achieved all A*s at both GCSE and A level and is now studying Sport and Exercise Science. As someone who attended a state school, James was aware of the gap between the independent and state sectors so he wanted to be a part of the hockey mentors project so he could help players who are affected by this. Also, he would like to play a role in allowing young players to achieve their potential and enjoy their hockey journey no matter their situation or background.
Izzy Petter
Izzy is a current GB and England international, she made her international at 18 and has amounted 33 caps and 6 goals to her name. She was part of the bronze medal winning U18 England team at the 2018 Europeans and won over 10 national club and school titles during her junior years. She is currently also studying Geography and Sport Science at Loughborough University. Izzy is very excited to join the hockey mentors project as she loves to work with young people to help them realise their dream and play the sport that we all love so much!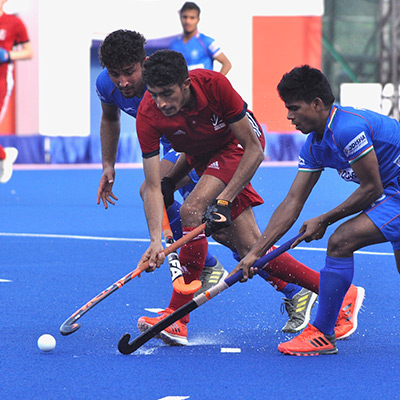 Rohan Bhuhi
Rohan Bhuhi is a current GB EDP and England U21 squad member. He has represented England at U16, U18 and U21 level. In 2018, he played the U18 European Championship. Rohan also represented the gold medal winning GB U21 team at the Sultan of Johor Cup 2019. He plays club hockey for Loughborough Students in the National League Division 1 North. Rohan is currently studying Computer Science at the University of Leicester. He has a passion for coaching juniors and runs regular sessions at Leicester Grammar School and his first club Leicester. Rohan attended his local state school which had little hockey provision. Rohan is excited to be part of the Hockey Mentors project and looks forward to help others overcome barriers to fulfilling their academic and hockey goals. He believes it is important to make hockey more accessible to everyone irrespective of background and financial status.
Hattie Jones
Hattie Jones currently plays hockey for Wimbledon Hockey Club in the English Premier League, alongside being a teacher at a prep school. She has represented New Zealand in the Junior and Development Programs since 2015 and attended the Junior World Cup in Chile. Having been Head Girl at school and successfully completing the International Baccalaureate in 2016, Hattie took an alternative path to University. She wanted to be part of the Hockey Mentors Project as she remembers how valuable support was when she was going through the stress of balancing the demands of school and sport. She is passionate about supporting aspiring athletes and doing everything she can to keep people motivated and enjoying everything they are doing.
Jack Waller
Jack Waller is a current player in the GB and England senior men's team having represented England at U16 and U18 level and both at U21 level. Aside from representing Durham University HC 1st XI in the North Conference for 3 years, he has played his whole life at Wimbledon Hockey Club and has played for the WHC Men's 1st XI since the age of 16. After achieving straight As and A*s at A-level, Jack studied History at Durham University where he graduated with a 2:1 in 2018. Jack wanted to be a part of the hockey mentors project as he believes passionately in levelling the playing field and making hockey as diverse a sport as possible.
Fiona Crackles
Fiona Crackles is the newest player to join the GB senior women squad after receiving her first 4 senior caps during the pro league games against Holland and Belgium. Having gone up through the England system from U16 to GB EDP Fiona has a wealth of experience understanding balancing hockey, school and friends. Currently at Durham University studying Sport Science, Fiona plays for the Womens 1st XI. Fiona is from the NW and went to her local state school. She has developed through hard work, enjoying what she does and learning from others. She is passionate to give back to the sport and act as a role model to make hockey a stronger and more available sport to all.
Tim Nurse
Tim Nurse is currently part of the EDP squad since 2017 and within his time in the programme, he has been part of the team which have won 2 gold medals in the Sultan of Johor Cup in 2018 and 2019, as well as winning a silver medal with England U21's where he was awarded player of the tournament. Tim currently plays for Surbiton hockey club as well as Bath University, where he studies Sports Performance. He is pleased to be part of the mentorship program as Tim was keen to help the younger generation fulfil their potential and enjoy hockey for life.
Esme Burge
Esme Burge gained her first GB Senior Cap in June 2019 and has since been training on a full time basis with the GB Womens Hockey Squad whilst also playing for Hampstead & Westminster Hockey club in the Premier League. Esme achieved top grades at school whilst balancing school, club and England hockey commitments and is currently completing her final year studying Psychology at the University of Nottingham. She is known for her technical game, leadership abilities and gritty determined attitude but always ensures she is playing with a smile on her face. Esme is extremely passionate about supporting young talented players to reach their potential both on and off the pitch and believes that hockey should be a sport for all.
Ollie Payne
Ollie Payne is currently in the Great Britain Hockey squad as well as playing for premier league side Holcombe Hockey Club. He has represented England at U16s, U18s and U21s level. Ollie studied Sport, Exercise and Physical Activity at Durham University after completing a Level 3 BTEC at Exeter college. He wanted to be part of the hockey mentors project because he feels that it will be of real benefit for athletes that face challenges due to circumstances that are out of their control.
Holly Hunt
Holly Hunt is a current member of the Great Britain Elite Development Programme and plays her club hockey for Hampstead and Westminster in the women's National Premier League. She has represented, and captained, England U16, U18 and U21 teams and has also played for GB U21 and U23. She also has 2 Senior Great Britain caps, which were awarded in FIH Pro League Games in 2020. Holly completed her Sport and Exercise Science degree at the University of Birmingham and is very excited to be a part of the Hockey Mentor Project. She believes it is incredibly important to support young people in all aspects of their life as they progress with their hockey career. In order to get the best out of these aspiring athletes, Holly feels we need to see them as a person and not just as hockey players alone.
Tom Sorsby
Tom is a current player in the Great Britain hockey squad and plays domestically for Surbiton Hockey Club. He attended state schools until VIth Form where hockey had opened up an opportunity to attend a private school and then onto Nottingham University. He wanted to be a part of the mentor program as he has experienced first hand the kind of opportunities that hockey can open up. He feels as though his experience of this can help others achieve their goals, maximise their opportunities, and help create diversity and inclusion within the sport.
Lottie Ross
Lottie Ross has been a part of England and GB programme from U16s through to GB EDP squad. As a junior, she captioned at 6-Nations tournaments at U16 level and has been involved in leadership groups at all levels since. She competed with England U21 as part of their 2019 European campaign in Valencia. She captained the University of Nottingham Ladies 1s for the 2019/20 season, and has now returned to Surbiton Hockey Club where she spent her junior hockey years, to play in the Premier League. Lottie is excited to be a part of Hockey Mentors and share her experiences and enjoyment of playing high level hockey while achieving a sustainable, balanced and fulfilling lifestyle.
Karan Sofat
Karan Sofat is a student at the University of Nottingham where he studies Economics and plays for the Men's 1st team in the National League and BUCS. Karan is currently a member of the GB EDP squad and has previously represented England at U16 and U18 level. He achieved straight A*/A at GCSEs and A-levels whilst balancing hockey commitments at school, club and nationally. Karan was keen to be part of the hockey mentors project as he wants to pass on his experience of being able to push past boundaries both on and off the pitch. He is looking forward to working with junior players to overcome challenges they may face, as well making hockey a more inclusive and diverse sport.
Lucy Holder
Lucy had her first England Cap at the age of 16 and since represented England for u16, u18 and u21 age groups. She currently plays for Wimbledon Ladies first team in the Premier league with the hope to play at the highest level for as long as possible. Lucy achieved high A-levels results, in particular Physical Education, where she pursued Sport and Exercise Science at St Mary's Twickenham University. Furthermore she extended her university experience with one more year studying MSc Applied Sport Psychology and recently graduated with a distinction. Lucy is very passionate for hockey in all aspects of the sport, but in particular psychology. She believes psychological skills such as mental toughness and the perception of having strength in vulnerability can be very powerful in order support young emerging athletes and create longevity of elite sport for all hockey players.
Robbie Gleeson
Robbie Gleeson is a former GB EDP player who represented England and GB at U16s, U18s, U21s and Senior Indoor level. As a junior Robbie went to his local state school and also played for mid-tier Lichfield HC but still managed to achieve outstanding success in his hockey. Robbie now plays his club hockey for Beeston Mens 1XI in the National Premier League. Robbie has a degree in Sports Education and Psychology from Nottingham Trent University and now combines his hockey with his job at Trent College where he works as a PE Teacher. Robbie wanted to be part of the hockey mentors project to help all young hockey players across the country to achieve their potential.
Anna Reynolds
Anna plays at Wimbledon and works in market research. She spent last season playing and coaching at Royal Herakles Hockey Club in Belgium. She graduated from the University of Bath with a Social Sciences degree in 2019. She captained the university and Team Bath Buccaneers teams, helping the university side win the BUCS South League and the Buccaneers reach promotion into National League. Anna has played for the GB EDP, England u21 and England u16 teams. She is super excited to be a mentor and can't wait to meet the young players she'll be supporting throughout the programme.
Sam Taylor
Sam Taylor is a current member of the GB EDP and England U21 programmes and has previously represented England at U18 level. Having completed a level 3 CTEC qualification in sport, he is now studying Sports Rehabilitation at Plymouth Marjon University. He has been part of Ashmoor hockey club for 14 years helping them reach the National League but now plays for the University of Exeter in National Prem. Having experienced similar problems he is looking forward to helping the younger players overcome challenges that they may face during their journeys.
Sarah Evans
Sarah is a current member of the GB & England Women's team. She gained her first Senior International cap in 2013 and has gone on to achieve over 112 caps. She is a European Silver and Bronze medallist and a Commonwealth Bronze medallist. Sarah is also the Ladies 1st XI Captain at Surbiton Hockey Club, leading the side to a record 7 straight Premier League titles. Sarah is excited to be part of the hockey mentors team as she is passionate about making hockey more diverse and inclusive, and in breaking down barriers to allow everyone the opportunity to succeed.