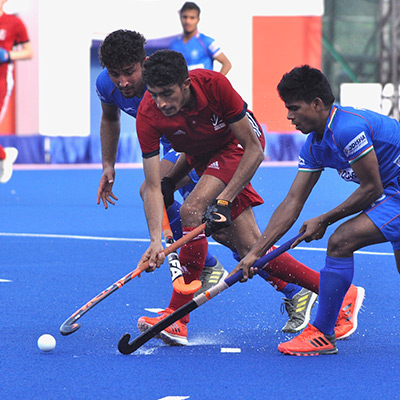 Rohan Bhuhi
Rohan Bhuhi is a current GB EDP and England U21 squad member. He has represented England at U16, U18 and U21 level. In 2018, he played the U18 European Championship. Rohan also represented the gold medal winning GB U21 team at the Sultan of Johor Cup 2019. He plays club hockey for Loughborough Students in the National League Division 1 North. Rohan is currently studying Computer Science at the University of Leicester. He has a passion for coaching juniors and runs regular sessions at Leicester Grammar School and his first club Leicester. Rohan attended his local state school which had little hockey provision. Rohan is excited to be part of the Hockey Mentors project and looks forward to help others overcome barriers to fulfilling their academic and hockey goals. He believes it is important to make hockey more accessible to everyone irrespective of background and financial status.
Darcy Bourne
Darcy Bourne is a current player in the GB EDP and England U21, having represented and captained England at U16s and U18s level. Darcy used to play hockey for Surbiton Ladies 1s, and now plays for Duke University in America on a sports scholarship. After achieving straight As and A*s at GCSE/A-level she now studies Liberal Arts at Duke. Darcy wanted to be part of the hockey mentors project as she has a huge desire to help make hockey a more diverse sport and offer mentorship to help aspiring athletes reach their goals. Darcy's role is to lead on selection, creating a robust process.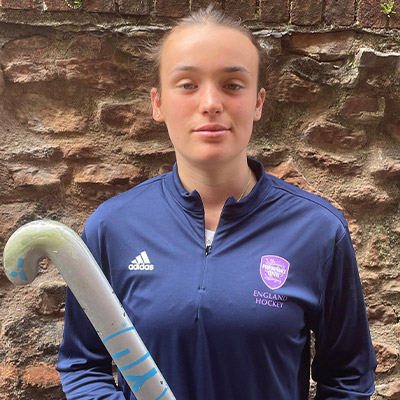 Lilly Holmes
Lilly Holmes is currently part of the West Hockey Performance Centre, she played for Avon and represented her county U14 team at age just 11. Lilly is a member of Clifton Robinsons Hockey club who she has played for since she was Age 7, she now plays Ladies 3 and Junior hockey. Her love of hockey was evidence during lockdown in 2020 during which time she posted 137 consecutive days of hockey challenges to social media, this is turn saw her nominated for The Sunday Times Sportswomen of the year away (Young Inspiration Award) as well as numerous features by England Hockey across Social media. Lilly hopes that by sharing her love of hockey and increasing its visibility to a wider audience she will encourage at least one new person to pick up a hockey stick and give hockey a go. Lilly supports the Hockey Mentors social media through being one of the regular guests for 'Fun Friday' skill videos and also helping us understand how to inspire her generation to be leaders, just like she is.
Jeevan Chagger
Jeevan Chagger is Chairman of City of Birmingham Hockey Club (Men's and Juniors sections). He is currently England's youngest ever Hockey Chairman and the winner of the England Hockey Rising Star Award 2019 where he had the privilege of meeting 42 other European delegates at the EHF Youth Festival in Belgium in 2019. He is proud to be an ambassador for Hockey Mentors project, in order to encourage more young people from disadvantaged backgrounds, state schools and those seeking the opportunity to develop themselves in hockey to have the opportunity to be mentored by some of the finest talents across Hockey. Hockey Mentors were attracted to working with Jeevan due to him being a shining example of leading when young, his work in supporting well-being and his commitment to make hockey a more inclusive sport.
Jack Waller
Jack Waller is a current player in the GB and England senior men's team having represented England at U16 and U18 level and both at U21 level. Aside from representing Durham University HC 1st XI in the North Conference for 3 years, he has played his whole life at Wimbledon Hockey Club and has played for the WHC Men's 1st XI since the age of 16. After achieving straight As and A*s at A-level, Jack studied History at Durham University where he graduated with a 2:1 in 2018. Jack wanted to be a part of the hockey mentors project as he believes passionately in levelling the playing field and making hockey as diverse a sport as possible. Jack supports the Hockey Mentors social media through being one of the regular guests for the 'Mindset Monday' and 'Fun Friday' skill videos, as well as supporting the Hockey Mentors Academy through his attendance at the in-person days and a regular monthly session with the boys in the academy.
Fiona Crackles
Fiona Crackles is the newest player to join the GB senior women squad after receiving her first 4 senior caps during the pro league games against Holland and Belgium. Having gone up through the England system from U16 to GB EDP Fiona has a wealth of experience understanding balancing hockey, school and friends. Currently at Durham University studying Sport Science, Fiona plays for the Womens 1st XI, where she is also a sports scholar. Fiona is from the NW, went to her local state school and had a gap year to Australia. She has developed through hard work, enjoying what she does and learning from others. She is passionate to give back to the sport and act as a role model to make hockey a stronger and more available sport to all. Fiona supports the Hockey Mentors social media through being one of the regular guests for the 'Mindset Monday' and 'Fun Friday' skill videos, as well as supporting the Hockey Mentors Academy through her attendance at the in-person days and a regular monthly session with the girls in the academy.
Izzy Gardiner
Izzy Gardiner is the Ladies 1s GK at Broxbourne Hockey Club. She competed at U14s and U16s National finals with Southgate HC and has been part of the England Player Pathway. Her biggest hockey achievement is playing National league hockey at 16 yrs old . She is currently studying A Level Sociology,PE and Geography at Presdales school in Hertfordshire. Izzy really wanted to be part of this hockey mentors project as she is a strong and vocal advocate for driving equality of access and opportunity for junior players in hockey. She is determined to drive change which will see all young players have the opportunity to reach their full potential regardless of their background. As a state school player herself with limited access to facilities and opportunities to play she wants to ensure players like her benefit from the high quality mentoring this programme will provide. Izzy's role is to lead the social media accounts (Instagram/Twitter) for the project.
Izzy Petter
Izzy is a current GB and England international, she made her international at 18 and has amounted 33 caps and 6 goals to her name. She was part of the bronze medal winning U18 England team at the 2018 Europeans and won over 10 national club and school titles during her junior years. She is currently also studying Geography and Sport Science at Loughborough University. Izzy is very excited to join the hockey mentors project as she loves to work with young people to help them realise their dream and play the sport that we all love so much!
Esme Burge
Esme Burge gained her first GB Senior Cap in June 2019 and has since been training on a full time basis with the GB Womens Hockey Squad whilst also playing for Hampstead & Westminster Hockey club in the Premier League. Esme achieved top grades at school whilst balancing school, club and England hockey commitments and is currently completing her final year studying Psychology at the University of Nottingham. She is known for her technical game, leadership abilities and gritty determined attitude but always ensures she is playing with a smile on her face. Esme is extremely passionate about supporting young talented players to reach their potential both on and off the pitch and believes that hockey should be a sport for all.
Tom Sorsby
Tom is a current player in the Great Britain hockey squad and plays domestically for Surbiton Hockey Club. He attended state schools until VIth Form where hockey had opened up an opportunity to attend a private school and then onto Nottingham University. He wanted to be a part of the mentor program as he has experienced first hand the kind of opportunities that hockey can open up. He feels as though his experience of this can help others achieve their goals, maximise their opportunities, and help create diversity and inclusion within the sport.
Holly Hunt
Holly Hunt is a current member of the Great Britain Elite Development Programme and plays her club hockey for Hampstead and Westminster in the women's National Premier League. She has represented, and captained, England U16, U18 and U21 teams and has also played for GB U21 and U23. She also has 2 Senior Great Britain caps, which were awarded in FIH Pro League Games in 2020. Holly completed her Sport and Exercise Science degree at the University of Birmingham and is very excited to be a part of the Hockey Mentor Project. She believes it is incredibly important to support young people in all aspects of their life as they progress with their hockey career. In order to get the best out of these aspiring athletes, Holly feels we need to see them as a person and not just as hockey players alone.